Arla Dofino Creamy Havarti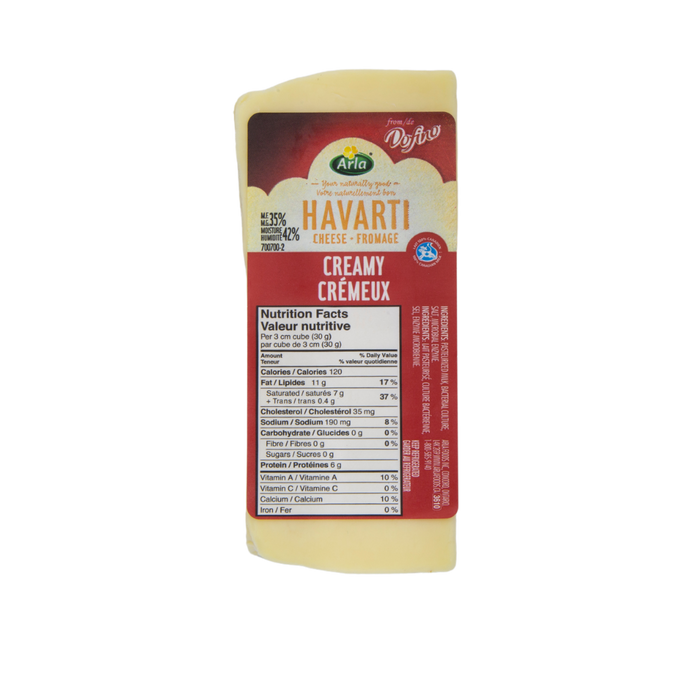 Enjoy our Arla Havarti with its distinctly mild and creamy taste. Based on an original Danish recipe from the 1870s it still remains a firm favorite to many.

Made with fresh milk directly from our Arla farmers – Arla Havarti is a naturally tasty way to satisfy your cravings whatever the size. Combine Arla Havarti with your favorite vegetables, fruit, meat or bread and you have a meal any time of day that is both delicious and wholesome.
Ingredients & Information

Nutritional Facts
Ingredients & Information
Origin/Origine: Canada and Denmark / Canada et Danemark
Milk Type/Type de Lait: Cow I Vache
Manufacturer/Fabricant: Arla Foods, Ltd.

Ingredients: Pasteurized milk, bacterial culture, salt, microbial enzyme.

Ingredients: Lait pasteurise, culture bacterienne, sel, enzyme
microbian.

Milk Fat Matieres Grasses : 35%
Moisture/Humidite: 42%
Storage/Entreposage: Keep refrigerated / Garder au froid