Bothwell Red Wine Extra Old Cheddar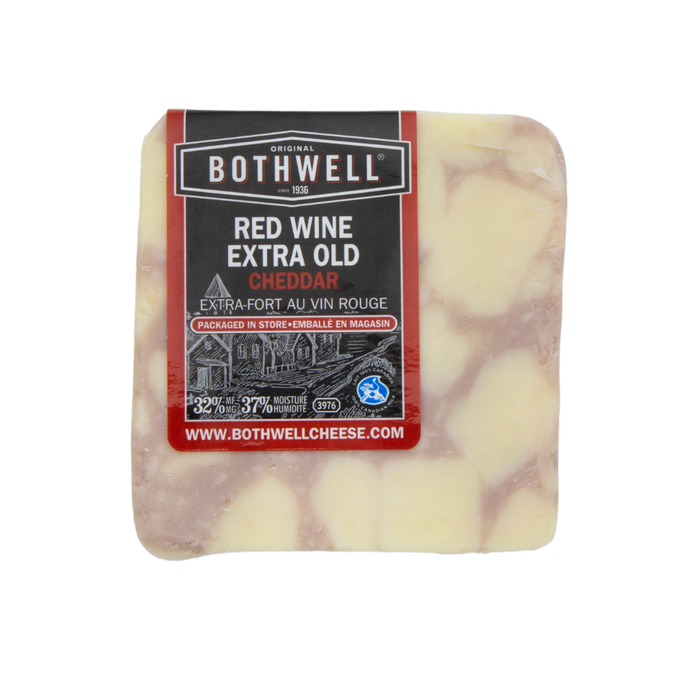 We mature our Premium Red Wine Old Cheddar to perfection after combining aged white cheddar with the very best Canadian full-bodied red wine. This cheese presents beautifully on a cheese plate with its veins of rich red wine running through it.

What is the perfect pairing for wine-infused cheese? More wine of course. Try a Cabernet Sauvignon, Rioja, Chianti or Shiraz with this popular specialty cheese.
Ingredients & Information

Nutritional Facts
Ingredients & Information
Origin/Origine: Manitoba, Canada
Milk Type/Type de Lait: Cow I Vache
Manufacturer/Fabricant: Bothwell Cheese, Inc.

Ingredients: Fresh pasteurized milk, red wine (sulphites), bacterial culture, salt, microbial enzyme

Ingredients: Lait frais pasteurise, vin rouge (sulfites), culture bacterienne, sel, enzyme microbienne

Milk Fat/Matieres Grasses : 32%
Moisture/Humidite: 37%
Storage/Entreposage: Keep refrigerated / Garder au froid